Isolation and characterization of cellulolytic bacteria from Lubimbi hot springs in Binga, Zimbabwe
Abstract
Cellulolytic bacteria have gained worldwide interest due to their ability to secrete thermostable enzymes with multiple uses. In this study, cellulolytic bacteria were isolated from local hot springs on carboxymethyl cellulose (CMC) agar and screened using 0.1% Congo red. Strains LB-4, LB-6 and LB-8 were found to have high cellulolytic indices of 1.8, 2.0 and 1.5, respectively. These strains were preliminarily identified based on morphology, gram's reaction, and biochemical characteristics. They were rod-shaped, stained blue and possibly belong to a genus of motile Bacillus. The isolates were further subjected to homology analysis of the 16S rRNA gene. BLAST search showed strains LB-4, LB-6 and LB-8 to be 99.13%, 98.26% and 98.91% identical to Bacillus subtilis, Bacillus sp., and Bacillus licheniformis in the NCBI GenBank, respectively. The cellulolytic activity of each strain was evaluated using submerged fermentation that was terminated by the dinitrosalicylic acid (DNS) method. The optimum cellulase activity of the bacteria strains were observed after 24 hr at pH 7 and 40ºC while utilizing 1% CMC as a carbon source and 1% yeast extract as a nitrogen source. It can be concluded that cellulolytic bacteria were screened and identified from Lubimbi hot springs and the cellulase activity of each strain was optimized for different fermentation conditions. These strains have potential use in the pre-treatment of crop residues for biogas production.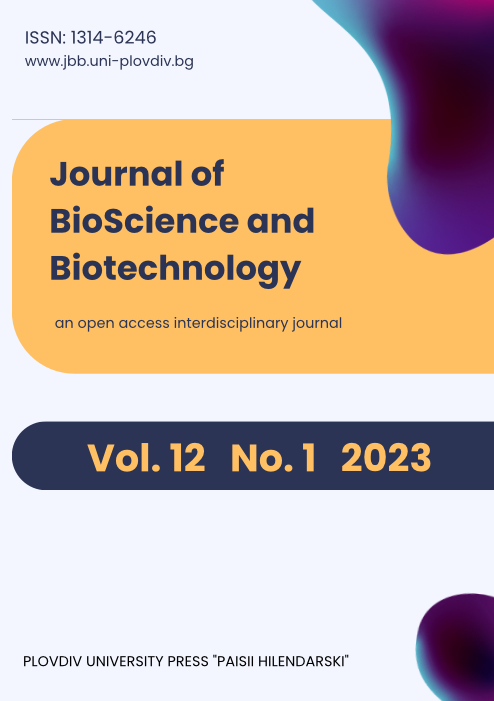 Downloads
Section
Biochemistry and Biotechnology
License
Copyright (c) 2023 Reckson Kamusoko, Raphael Muzondiwa Jingura, Wilson Parawira, Zedias Chikwambi
This work is licensed under a Creative Commons Attribution-NonCommercial-NoDerivatives 3.0 Unported License.
Authors of articles published in Journal of BioScience and Biotechnology retain the copyright of their articles. The journal/publisher is not responsible for subsequent uses of the work. It is the author's responsibility to bring an infringement action if so desired by the author.
Authors retain the following rights:
copyright, and other proprietary rights relating to the article, such as patent rights;
the right to use the substance of the article in future own works, including lectures and books;
the right to reproduce the article for own purposes, provided the copies are not offered for sale;
the right to self-archive the article.