Bio-active components of Cymbopogon martinii essential oil as therapeutics targeting bacterial Penicillin-Binding-Proteins (PBPs): Aroma profile, in silico-docking, pharmacokinetics and wet-lab validation
Abstract
Cymbopogan martinii, also known as Palmarosa, is an underutilized plant of tropical region. Due to outstanding antioxidant potential it has been used as a part of conventional medicine and beauty product. The objective if present study was aromatic profiling of Palmarosa essential oil and molecular docking of Palmarosa essential oil bioactive components (Geraniol, Geranial, Linalool, Fenchyl alcohol, 6-methylhept-5-en-2-one, Borneol, Elemol, δ-cadinol) against six bacterial Penicillin-binding Proteins (PBP1a, PBP2a, PBP3, PBP4, PBP5, and PBP 6) and in-vitro support. GC-FID was used to find out aromatic profiling. For docking Cb-dock2 tool was used. Ligand-Protein 3D interactions were also studied. In-silico ADMET pharmacoinformatics aspects  with PASS prediction of all the ligands has been bioprospected. Wet lab validation was performed by Gram-positive and Gram-negative bacterial strains. GC-FID profiling revealed the presence of various major and minor components. Docking analysis indicated effective binding of all the ligands with all the six PBP's (PBP1a, PBP2a, PBP3, PBP4, PBP5, and PBP 6). The interaction results indicate that the PBP-Ligand complexes form hydrogen and hydrophobic interactions. in-silico ADMET study revealed that all the ligand molecules have no toxic effect and good absorption as well. Wet lab validation was performed by Gram-positive and Gram-negative bacterial strains. In-vitro results revealed that the Palmarosa oil was able to inhibit the growth of the bacterial strains thus signifying its role as potent anti-bacterial drug.  The Palmarosa essential oil could be a promising antibacterial agent against various strains.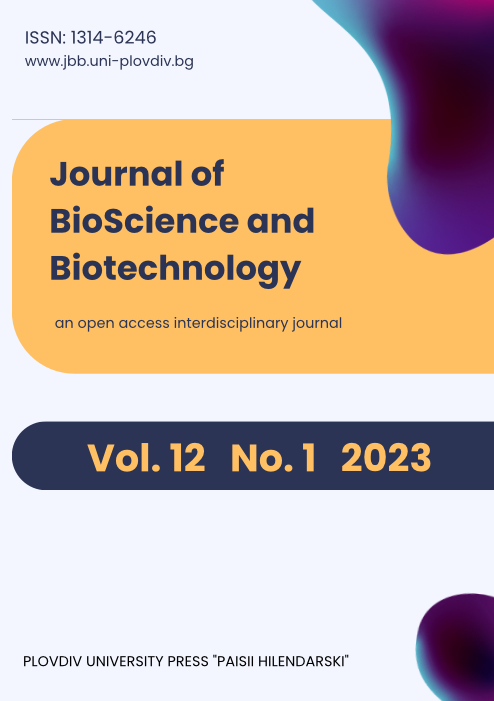 Downloads
Additional Files
License
Copyright (c) 2023 Arun Sharma, amrita, Inderjeet kaur
This work is licensed under a Creative Commons Attribution-NonCommercial-NoDerivatives 3.0 Unported License.
Authors of articles published in Journal of BioScience and Biotechnology retain the copyright of their articles. The journal/publisher is not responsible for subsequent uses of the work. It is the author's responsibility to bring an infringement action if so desired by the author.
Authors retain the following rights:
copyright, and other proprietary rights relating to the article, such as patent rights;
the right to use the substance of the article in future own works, including lectures and books;
the right to reproduce the article for own purposes, provided the copies are not offered for sale;
the right to self-archive the article.