Assessment of gamma rays effect on morphoagronomical quantitative traits of three genotypes of okra (Abelmoschus esculentus (L.) Moench) in Burkina Faso
Keywords:
Burkina Faso, Okra, quantitative traits, irradiation
Abstract
Seeds of three Okra local genotypes of Burkina Faso, UAE22, KBG535 and KBG24, were irradiated with gamma rays at doses ranging from 200 to 3000 Gy using 60Co sources at IBD-CETT, in Burkina Faso. Seeds germination was evaluated in laboratory and then some were sown and plants maintained at two per pot. Traits were measured from germination to fruits maturity. Germination rate below 50% was observed at doses of 400 Gy and from 600 to 800 Gy for UAE22, and at 1600 Gy for KBG535. Up to 3000 Gy, germination faculty was not totally lost. The survival rate at 60 DAS reached 0% at doses of 1400, 1600 and 2000 Gy respectively for KBG535, KBG24 and UAE22. Also, at doses below 600 Gy, time to budding and flowering was reduced for the 3 genotypes. UAE22 did not show any increase for fruit characteristics, except the number of fruits per plant from 200 to 800 Gy. KBG24 and KBG535 showed increases of fruit traits at some doses between 200 and 800 Gy. As for seeds traits, the dose of 200 Gy had an increasing effect for KBG535 and that of 400 Gy had the same effect for UAE22 and KBG24, except the weight of seeds per plant. All the traits studied showed significant variation depending on doses and also genotypes. Irradiation of okra seeds was therefore an appreciable source of induction of variation in quantitative traits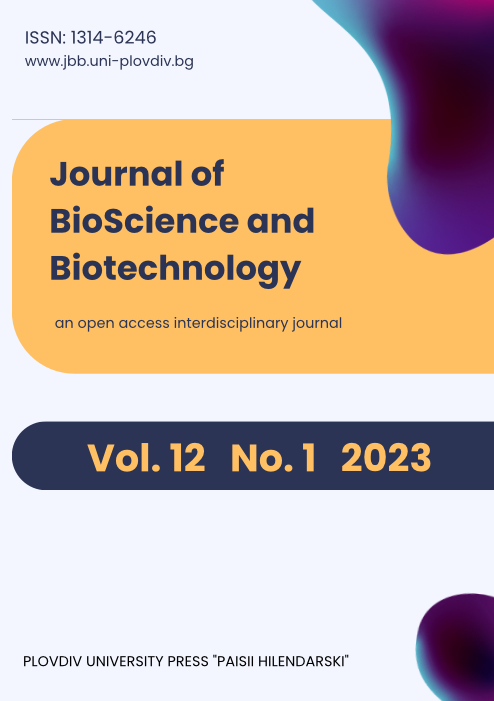 Downloads
License
Copyright (c) 2023 Alphonse YAKORO, Hamed, Vianney, Romaric, Karidiatou TRAORE, Mahamadou SAWADOGO
This work is licensed under a Creative Commons Attribution-NonCommercial-NoDerivatives 3.0 Unported License.
Authors of articles published in Journal of BioScience and Biotechnology retain the copyright of their articles. The journal/publisher is not responsible for subsequent uses of the work. It is the author's responsibility to bring an infringement action if so desired by the author.
Authors retain the following rights:
copyright, and other proprietary rights relating to the article, such as patent rights;
the right to use the substance of the article in future own works, including lectures and books;
the right to reproduce the article for own purposes, provided the copies are not offered for sale;
the right to self-archive the article.