Screening of vegetable cowpea [Vigna unguiculata (L.) Walp.] varieties introduced in Burkina Faso for Cowpea aphid-borne mosaic virus resistance.
Keywords:
vegetable cowpea, resistance, Cowpea Aphid-Borne Mosaic Virus, Burkina Faso.
Abstract
Vegetable cowpea is a variant of cowpea where the pods are consumed at the immature stage. Like other legumes, vegetable cowpea is subject to several constraints including Cowpea Aphid-Borne Mosaic Virus (CABMV) which seriously hampers its production. The objective of this study was to assess the impact of CABMV on the growth of vegetable cowpea varieties. The experiment was conducted in the greenhouse at the Kamboinsé experimental station and consisted of an artificial infestation of twenty (20) varieties in pots with CABMV in a randomized complete block design with three replications. At the end of the infestation of seedlings, carried out at one week after sowing, fourteen (14) quantitative characteristics were measured. Study revealed the existence of several discriminating resistance and agronomic parameters, thus translating the existence of diversity within the varieties. Correlations were also observed between severity at 21th DAI and 30th DAI; between severity at 30th DAI and AUDPC; between flowering and vegetable cowpea stage. Results of the multivariate analysis show that the diversity of resistance and agro-morphological parameters is structured with a division of varieties into three distinct groups based on the discriminating characters namely the degree of disease severity and AUDPC. From this study, four (4) varieties IT84S-2246, UG-CP-8, IT85F-2805-5 and Telma were resistant to CABMV. Varieties IT85F-2805-5 and Telma expressed the best agro-morphological performance and resistance to CABMV. The high variability for all traits shows potential for breeding for vegetable cowpea improvement.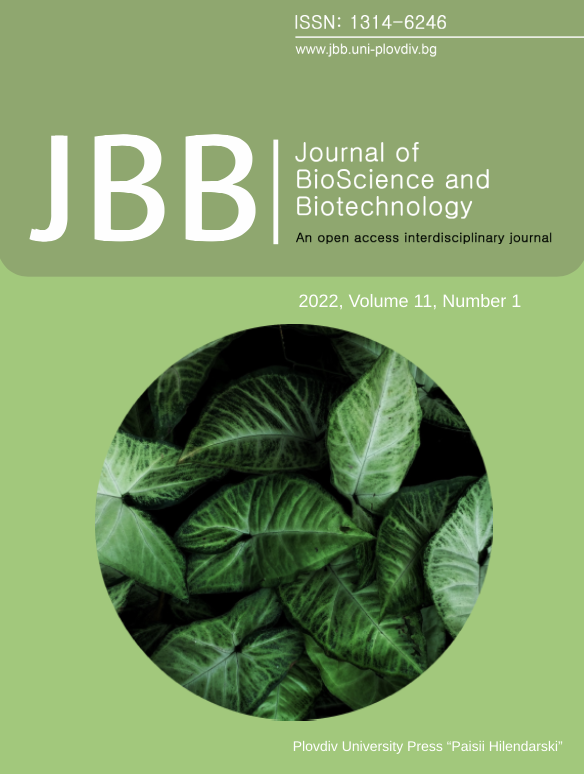 Downloads
License
Authors of articles published in Journal of BioScience and Biotechnology retain the copyright of their articles. The journal/publisher is not responsible for subsequent uses of the work. It is the author's responsibility to bring an infringement action if so desired by the author.
Authors retain the following rights:
copyright, and other proprietary rights relating to the article, such as patent rights;
the right to use the substance of the article in future own works, including lectures and books;
the right to reproduce the article for own purposes, provided the copies are not offered for sale;
the right to self-archive the article.