Interaction of non-targeted nanodiamond carriers with specialized rodent cells: preliminary ex vivo and in vivo study
Keywords:
fluorescent nanodiamonds, nanodiamond carriers, RNA delivery, nanoparticles ex vivo, intraperitoneal application of nanoparticles
Abstract
Nanodiamonds are widely tested as convenient drug delivery systems because they are nontoxic, biocompatible, and can easily carry various biomolecules. However, their effect on living systems is not fully explored. In this research, we used fluorescent nanodiamonds carrying small RNA and we applied them ex vivo and in vivo to see changes in key cytokines TNF-α and IFN-γ. We investigated the response of primary cells after encountering the loaded nanodiamond carriers. Specifically, blood, peritoneal macrophages, and spleen were examined for cytokine expression, cell internalization, and toxicity. The nanodiamonds were detected inside peritoneal macrophages and spleen after ex vivo and in vivo stimulations. The viability of cells was comparable in samples with/without nanodiamond exposure in vivo. We found a significant increase in TNF-α and IFN-γ protein levels measured in peripheral blood mononuclear cells after stimulation with bare nanodiamonds but no increase was measured when the same cells were exposed to RNA-loaded nanodiamonds. Furthermore, real-time qPCR showed no significant changes in TNF-α and IFN-γ levels after nanodiamond and loaded nanodiamonds stimulation ex and in vivo, except a sample of peritoneal macrophages stimulated with bare nanodiamonds. Finally, there was no significant change in hemolysis when comparing samples with nanodiamond or control stimulation. We conclude from our observations that RNA-loaded fluorescent nanodiamonds do not significantly affect TNF-α and IFN-γ levels and possess minimal direct toxicity to red blood cells. However, the nanodiamond particles were found in peritoneal macrophages and spleen after the i.p. application suggesting the importance of targeted coating for their systemic application.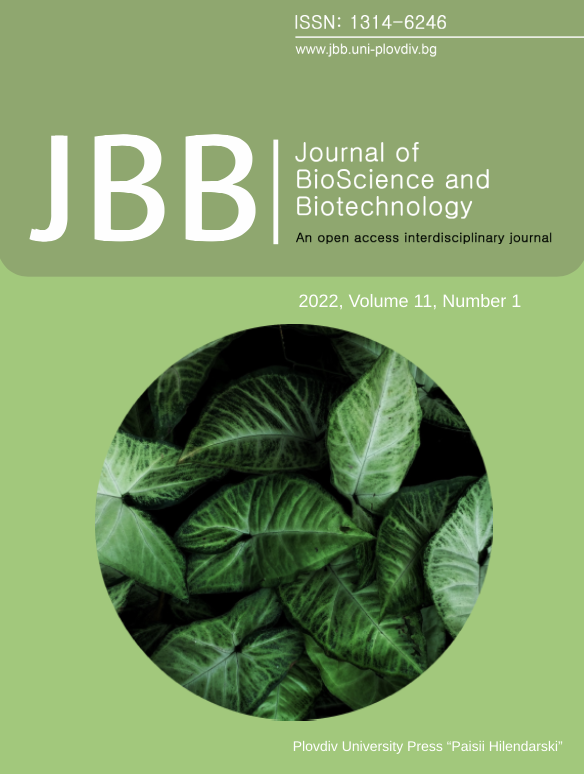 Downloads
Section
Biochemistry and Biotechnology
License
Authors of articles published in Journal of BioScience and Biotechnology retain the copyright of their articles. The journal/publisher is not responsible for subsequent uses of the work. It is the author's responsibility to bring an infringement action if so desired by the author.
Authors retain the following rights:
copyright, and other proprietary rights relating to the article, such as patent rights;
the right to use the substance of the article in future own works, including lectures and books;
the right to reproduce the article for own purposes, provided the copies are not offered for sale;
the right to self-archive the article.