Determination of degradability of germinated and heated soybean seeds and its proteins fractions
Behrooz Alizadeh

Islamic Azad University, Shabestar Branch, Shabestar, Iran

Ramin Salamatdoost-Nobar

Islamic Azad University, Shabestar Branch, Shabestar, Iran

Hamid Paya

Department of Animal Sciences, Faculty of Agriculture, University of Tabriz, Iran

Khosro Parsaeimehr

Department of Animal Sciences, Faculty of Agriculture, University of Tabriz, Iran
Abstract
This study was carried out to determine the effects of germination and moisture heating treatments (121 °C with steam pressure) of soybean seeds (SS) on in situ rumen degradability characteristics in sheep and its proteins sub-units fractions by a SDS-PAGE discontinues system. In the experiments, three ruminally cannulated wethers were used to measure in situ rumen degradability characteristics of dry matter (DM) and crude protein (CP) of different treated SS samples. SS were treated germination and germination with moisture heating. Germination and moisture heated treatment significantly (P<0.05) reduced degradability values of DM and CP for SS. Rumen effective protein degradability values of SS (k=0.02 h-1) were significantly decreased by germination with heating (P<0.05). Effective degradability of DM (k=0.02 h-1) were 72.90, 68.36 and 67.83 percent of DM and CP was 71.53, 69.40 and 63.00 percent of DM for NSS (untreated soybean seeds), GSS (germinated soybean seeds) and HGSS (heated and Germinated soybean seeds) treatments, respectively. Electrophoretic patterns of untreated and treated SS protein residues revealed that β-conglycinin β, α and α` subunit were degraded completely within 24h of incubation in the rumen, whereas the acidic and basic subunits of glycinin were degraded after 48h incubation in GSS and HGSS. It is concluded that SS proteins can be effectively protected from degradation in the rumen by germination and germination with moisture heating treatment.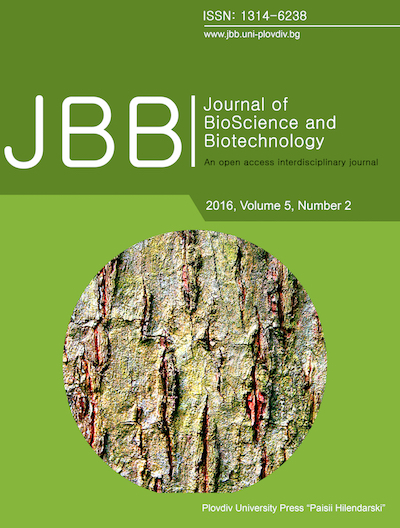 Authors of articles published in Journal of BioScience and Biotechnology retain the copyright of their articles. The journal/publisher is not responsible for subsequent uses of the work. It is the author's responsibility to bring an infringement action if so desired by the author.
Authors retain the following rights:
copyright, and other proprietary rights relating to the article, such as patent rights;
the right to use the substance of the article in future own works, including lectures and books;
the right to reproduce the article for own purposes, provided the copies are not offered for sale;
the right to self-archive the article.