Effects of enzyme supplementation on replacing maize with barley in diet of broiler chicks
Mahmood Habibian

Department of Animal Science, Faculty of Agriculture, University of Kurdistan, Sanandaj, Iran

Ghorbanali Sadeghi

Department of Animal Science, Faculty of Agriculture, University of Kurdistan, Sanandaj, Iran
Abstract
Two experiments were conducted to evaluate the effect of an enzyme complex (Agrozyme®, a cocktail of cellulolytic, amylolytic and proteolytic enzymes) on barley energy content and its nutritive value in broiler diets. In the first experiment, the effect of enzyme on barley energy content was determined using adult Leghorn cockerels. In the second experiment the effects of the enzyme on performance, carcass characteristics and nutrient digestibility of broilers fed diets containing 0, 50 and 100% replacement of diet maize with barley was investigated using 360 one-d-old chicks. Enzyme had no effect on barley energy content (first experiment). During 1 to 21 d, chicks fed diet in which 100% of maize was replaced by barley had lower weight gain than those fed diet in which 50% of maize was replaced by barley. The high barley diet resulted in a significant increase in feed conversion ratio. During 21 to 35 d, chicks fed the maize diets had lower weight gain than those fed barley diets. Enzyme had no effect on weight gain, but feed conversion ratio was improved by enzyme when chicks fed high barley diet. In overall period, enzyme addition had no effect on performance. Carcass and abdominal fat weight was reduced, whereas the small intestine weight was increased when chicks fed diet in which 100% of maize was replaced by barley. Dietary treatments had no effect on dry matter, crude protein and crude fat digestibilities.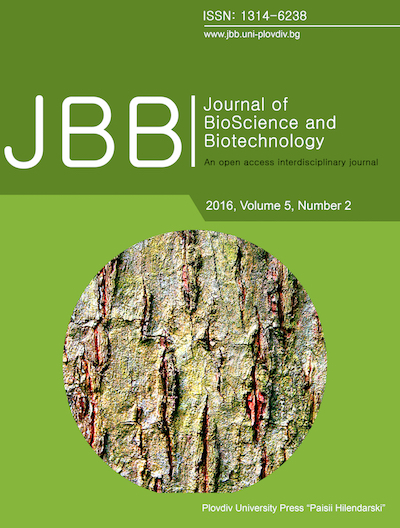 Authors of articles published in Journal of BioScience and Biotechnology retain the copyright of their articles. The journal/publisher is not responsible for subsequent uses of the work. It is the author's responsibility to bring an infringement action if so desired by the author.
Authors retain the following rights:
copyright, and other proprietary rights relating to the article, such as patent rights;
the right to use the substance of the article in future own works, including lectures and books;
the right to reproduce the article for own purposes, provided the copies are not offered for sale;
the right to self-archive the article.