Molecular detection of beneficial hyphal soil-born microorganisms in different soil types in areas infested with parasitic broomrapes - Orobanche cumana Wallr. and Phelipanche ramosa L. in Bulgaria
Ina Kirilova

University of Plovdiv, Plant Physiology and Molecular Biology Dept., Plovdiv, Bulgaria

Tsveta Hristeva

Tobacco and Tobacco Products Institute, Markovo, 4108, Plovdiv, Bulgtaria

Radka Bozhinova

Tobacco and Tobacco Products Institute, Markovo, 4108, Plovdiv, Bulgtaria

Iliya Denev

Plant Physiology and Molecular Biology Dept., University of Plovdiv

Margarita Docheva

Tobacco and Tobacco Products Institute, Markovo, 4108, Plovdiv, Bulgtaria

Yonko Yonchev

Tobacco and Tobacco Products Institute, Markovo, 4108, Plovdiv, Bulgtaria
Keywords:
Actinomicetalеs; Arbuscular mycorrhizal fungi; Broomrapes, Soil types; Streptomyces
Abstract
Molecular markers and classic microbiological approaches for assessment of the population density and biodiversity of beneficial hyphal soil-born microorganisms (species from order Actinomicetalеs and arbuscular mycorrhizal fungi from Glomeromycota). Seven different soil types infested by parasitic broomrapes - Orobanche cumana Wallr. and Phelipanche ramosa L. were studied. The soil samples were collected from seventeen regions in Northern and Southern Bulgaria. Soil types were defined as: Chromic Cambisols; Chromic Luvisols; Calcic Vertisols; Mollic Fluvisols; Rendzic Leptosols; Chernozems - Calcic and Haplic, based on agrochemical characteristics. We found that the Chromic Luvisols soils have the highest population density of beneficial microorganisms and a high degree of colonization with arbuscular mycorrhizal fungi, followed by Mollic Fluvisols soils. Two main species of arbuscular mycorrhizal fungi were identified by molecular markers: Glomus intraradices and G. mosseae. The highest density of beneficial streptomycetes was found Chromic Luvisols soils. Based on molecular markers five species of Streptomycetes were identified namely: Streptomyces ambofaciens, S. aureocirculatus, S. carnosus, S. fasiculatus, S. griseorubens. Number of other hyphal fungi were also recorded from genera Aspergillus, Penicillium, Trichoderma, Fusarium, Mucor. Molecular identification of the strains of those fungi, however will require metagenomics approach. The results obtained will allow us to develop new strategy for using beneficial hyphal microorganisms to control parasitic weeds from Orobanchaceae.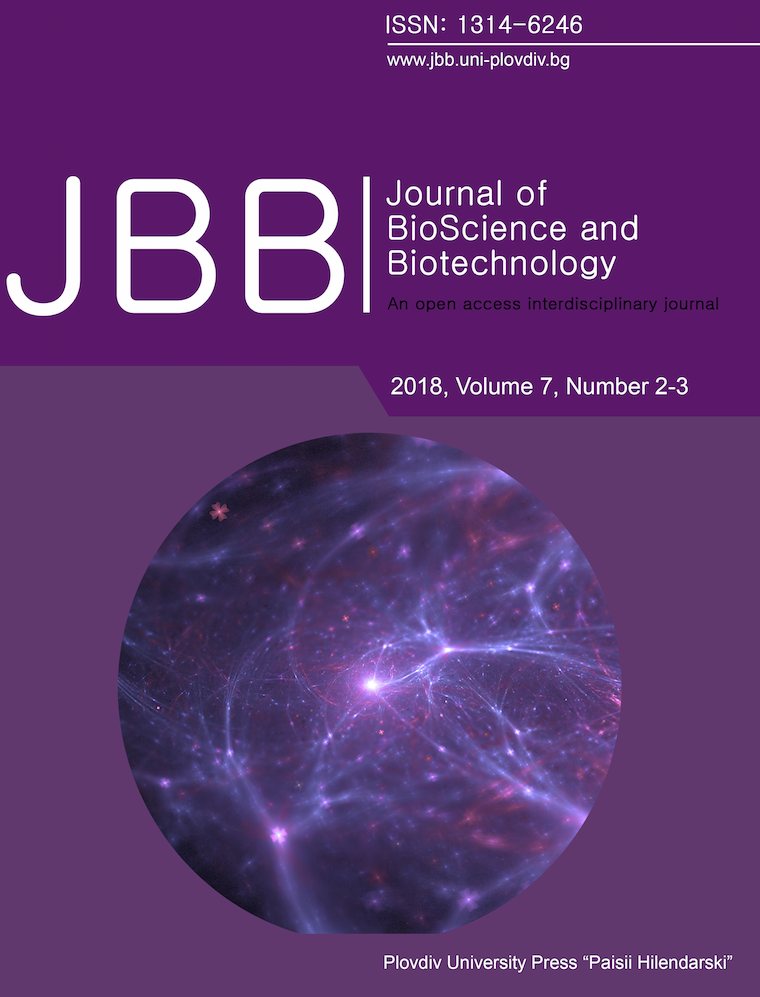 Section
Cellular and Molecular Biology
Authors of articles published in Journal of BioScience and Biotechnology retain the copyright of their articles. The journal/publisher is not responsible for subsequent uses of the work. It is the author's responsibility to bring an infringement action if so desired by the author.
Authors retain the following rights:
copyright, and other proprietary rights relating to the article, such as patent rights;
the right to use the substance of the article in future own works, including lectures and books;
the right to reproduce the article for own purposes, provided the copies are not offered for sale;
the right to self-archive the article.