Soybean long-term callus cultures – potential for biotransformation and nutraceutical production
Soybean long-term callus cultures
Georgina Petkova Kosturkova

Associate professor, Institute of Plant Physiology and Genetics, Bulgarian Academy of Sciences, Sofia

Margarita S. Dimitrova

Rositza V. Todorova

Krasimira N. Tasheva

Peter I. Petrov

Shashank Tidke

Ravishankar A. Gokare
Keywords:
Soybean, Glycine max, callus, long-term cultures, biotransformation
Abstract
Soybean (Glycine max (L.) Merrill.) is the world leading cultivated pulse crop as a source of protein, oil and nutraceuticals. Recently, alternative approaches for synthesis of new products gain bigger interest. Biotransformation based on iv vitro cultures is well-established technology for such alternative production. In this respect initiation of callus and long-term cultures were established from four Bulgarian soybean varieties. Potential for callus development of cotyledons and cotyledonary nodes plated on media containing various combinations of kinetin (0.1 – 1.0 mg/l) and 2,4-D (0.5 – 1.0 mg/l) was tested. The optimal concentrations for initiation and maintaining of nondifferentiated growth for most of the varieties was twice higher levels of the cytokinin to the auxin. Two of the Bulgarian genotypes (Rosa and Srebrina) revealed better potentials for callogenesis and long-term growth. These are promising for development of suitable procedures for biotransformation.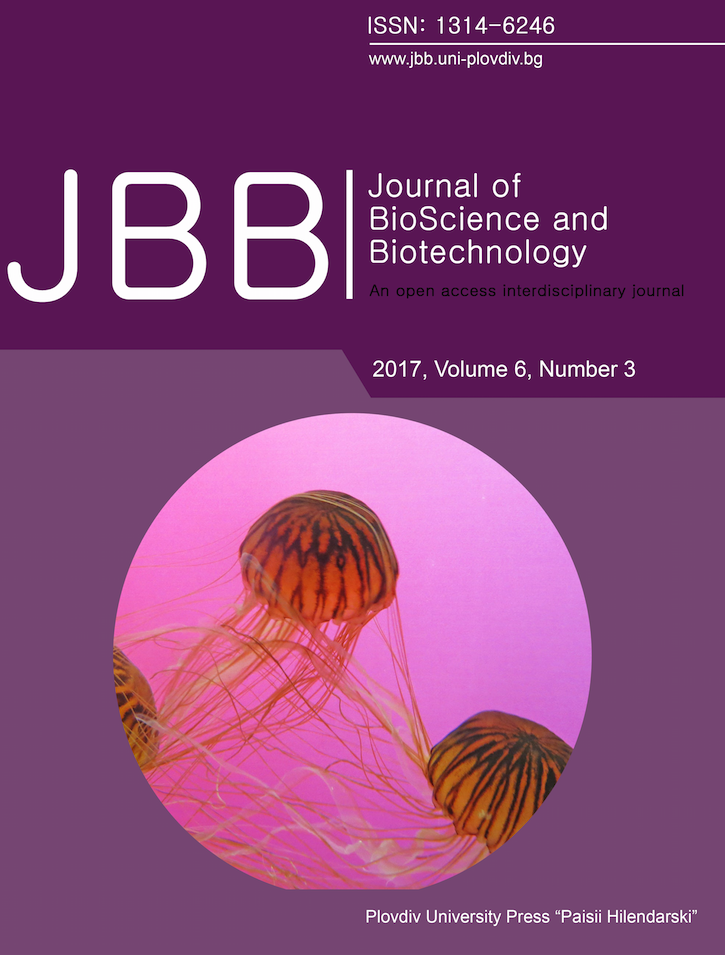 Section
Biochemistry and Biotechnology
Authors of articles published in Journal of BioScience and Biotechnology retain the copyright of their articles. The journal/publisher is not responsible for subsequent uses of the work. It is the author's responsibility to bring an infringement action if so desired by the author.
Authors retain the following rights:
copyright, and other proprietary rights relating to the article, such as patent rights;
the right to use the substance of the article in future own works, including lectures and books;
the right to reproduce the article for own purposes, provided the copies are not offered for sale;
the right to self-archive the article.