Characterisаtion of exo-inulinase concentrates from newly isolated thermophilic Bacillus strains - Bacillus sp. SG113 and Bacillus sp. SG115
Viara Ivanova

University of Food Technologies, Plovdiv

Simeon Gavrailov

University of Food Technologies, Plovdiv

Veronica Pashkoulova

Plovdiv University P. Hilendarski
Keywords:
inulinase, Bacillus, inulin, thermophile, hydrolysis
Abstract
Enzyme concentrates with inulinase and invertase activity were derived from strains Bacillus sp. SG113 and Bacillus sp. SG115. The enzyme concentrate from strain Bacillus sp. SG113 has two distinct temperature optima –  50°С and 65°С for inulinase activity and 55°С and 65°С for invertase activity. Both activities are 100% sustainable for an hour at 60°С and 65°С.  The inulinase activity of the enzyme concentrate from strain Bacillus sp. SG115 has two pH optima – pH 5.0 and pH 9.0, whilst invertase activity has only one – pH 6.0. The enzyme is stable at pH 7.0 (inulinase activity) and pH 6.0 (invertase activity).
The concentrate from strain Bacillus sp. SG113 hydrolyses inulin completely for 60 minutes at 60°С and 65°С. The invertase in the concentrate hydrolyses saccharose completely at 65°С, and partially (50%) at 70°С. Inulin extracts from topinambour, onion and garlic are almost entirely hydrolysed. The enzyme from strain Bacillus sp. SG115 hydrolyses to a lesser extent the studied inulin extracts and it was observed that hydrolysis was effective for 40 minutes. Thereafter the amount of reducing sugars does not increase, presumably due to product inhibition.
TLC data suggests that enzymes from strain Bacillus sp. SG113 and strain Bacillus sp. SG115 completely degrade inulin, onion and garlic extracts, whilst only partially degrading raffinose, with fructose being the end product in all cases, which proves their exo-activity.  However said enzymes do not hydrolyse melezitose.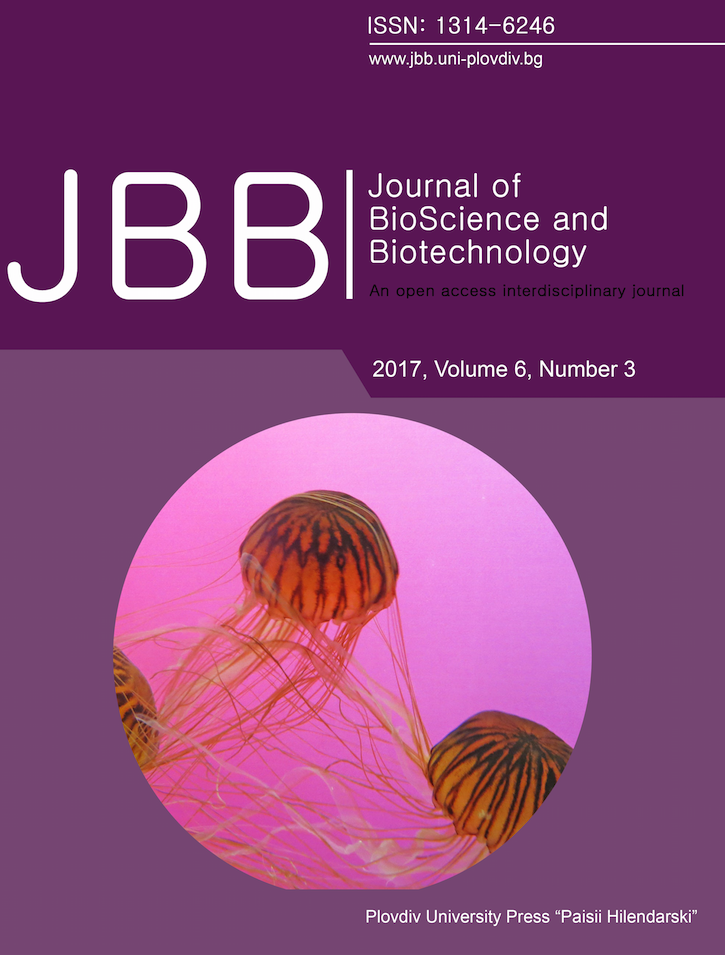 Section
Biochemistry and Biotechnology
Authors of articles published in Journal of BioScience and Biotechnology retain the copyright of their articles. The journal/publisher is not responsible for subsequent uses of the work. It is the author's responsibility to bring an infringement action if so desired by the author.
Authors retain the following rights:
copyright, and other proprietary rights relating to the article, such as patent rights;
the right to use the substance of the article in future own works, including lectures and books;
the right to reproduce the article for own purposes, provided the copies are not offered for sale;
the right to self-archive the article.