Distribution and Molecular Identification of Rice White Tip Nematode Aphelenchoides besseyi in Rice Growing Areas in Bulgaria
Silvia Veselinova Valcheva

Agricultural University - Plovdiv

Harry Samaliev

Agricultural University - Plovdiv

Milena Kostova

Agricultural University - Plovdiv
Keywords:
Aphelenchoides besseyi, rice, Bulgaria, morphology, SSU rDNA – based detection analysis, PCR.
Abstract
A study was conducted to determine the distribution of Aphelenchoides besseyi using molecular identification and the nematode effect on yield components in the major rice growing areas in Bulgaria. One hundred forty one paddy seed samples were collected in 2015 and 2016.  Molecular identification was performed based on the previously developed SSU rDNA detection analysis. Тhe specific primer combinations: 5′-GCGGGATTCGTGGTTC*T and 5′- CGACATGCCGAAACATGAG were used. Analysis showed that 23,4 %, from the collected samples, were infested with A. besseyi in the 10 studied locations in Plovdiv, Pazardhjik and Stara Zagora rice growing areas. In the infested samples, nematode densities were in the range   0-396 specimens/100 paddy seed. The effect of A. besseyi on cv. Osmancik variety showed that panicles with white tip symptoms were significantly shorter (17.2%) and lighter (39.5%) than those without white tip symptoms.This is the first molecular report for the presence of A. besseyi in Bulgaria.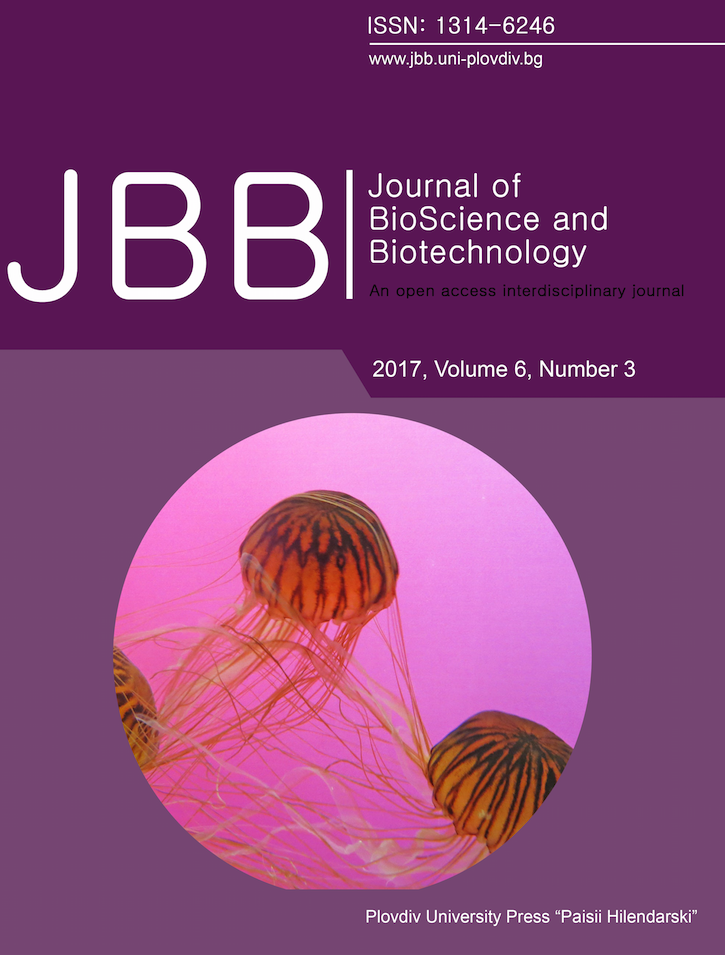 Authors of articles published in Journal of BioScience and Biotechnology retain the copyright of their articles. The journal/publisher is not responsible for subsequent uses of the work. It is the author's responsibility to bring an infringement action if so desired by the author.
Authors retain the following rights:
copyright, and other proprietary rights relating to the article, such as patent rights;
the right to use the substance of the article in future own works, including lectures and books;
the right to reproduce the article for own purposes, provided the copies are not offered for sale;
the right to self-archive the article.